Walk4 Burundi : Diary Update Week 4 (of 4)
24th May: One aspect of this fundraising campaign has been the envelopes which have dropped through my letterbox with cheques, cash and supporting messages. These became quite a motivational feature as the month progressed. You may imagine my surprise when I opened a letter on Monday morning to find a picture of my number plate taken the previous week after I left Kinsale and was passing through Belgool . It appears that I did not register the 50KM speed limit resulting in a polite request for €80 and the application of 3 penalty points!!
25th May: Tuesday in St Lappan's ,Little Island was another rainy day. While I had full raingear Rev. Paul Arbuthnot attracted some sympathy from a member of the nearby Golf Club who lent him an umbrella.
At Saint Lappin's Church, Little Island
26th May : It was a pleasure on Wednesday to meet the Rev. Ivan Ruiters, new rector of Kinneigh Union of Parishes, for the first time and to meet an enthusiastic group of parishioners . While I had driven though Enniskeane on many occasions, while travelling to Fanlobbus Union, I had never deviated from the main road. Ivan had planned a heritage route which was most interesting, passing a beautiful park, meeting Ms. Shireen Rountree and her charges in Ballymoney National School, discovering St Paul's and the graveyard of the last man who died as a result of a pistol duel. A most enjoyable walk in beautiful weather concluded in the Rectory where we enjoyed Raylene Ruiter's great hospitality.
At Kinneigh Union of Parishes
27th May; Were one asked what is worse than a walk in rainy weather, the answer is two walks in such weather.
Despite the conditions the walk in Rostellan on Thursday morning offered the opportunity to meet and renew acquaintances with so many friends from Cloyne Union of Parishes. Many thanks, not only to Dean Susan Green and the big group who walked with us, but also to the parishioners of Corkbeg who welcomed us in the church at the end of the walk with much needed hospitality.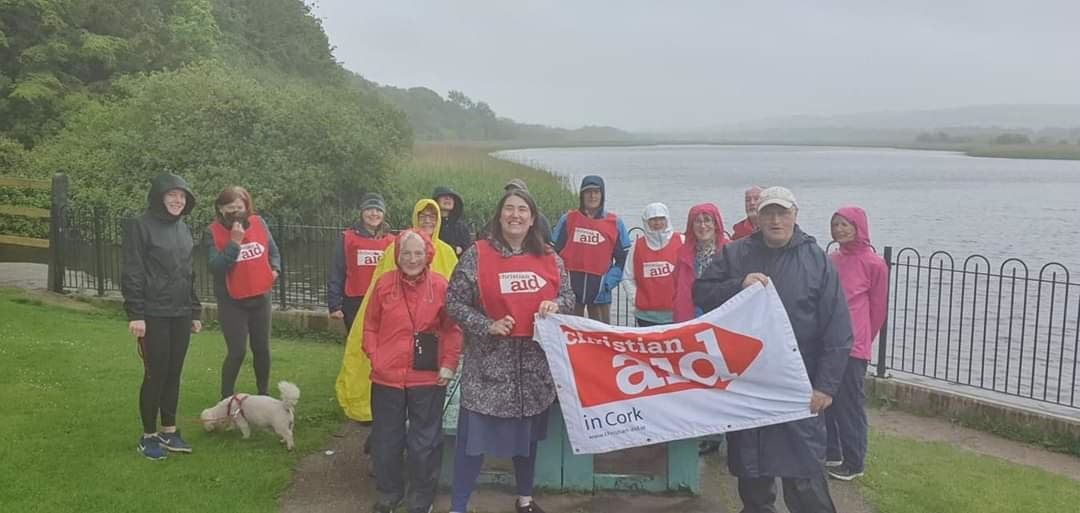 In Cloyne Union of Parishes
Our final walk the same afternoon was from Red Barn Beach to St Mary's Collegiate Church in Youghal. Truthfully, in light of the inclement conditions in the morning and the afternoon, my mind was focused mainly on concluding the walk, getting home and drying out. Fortunately Canon Andrew Orr had better ideas as he had arranged not only a reception in the church but a formal meeting with the Mayor of Cork County, Councillor Mary Linehan Foley, to mark the conclusion of our series of walks across the United Dioceses of Cork, Cloyne and Ross.
In the Collegiate Church of Saint Mary the Virgin Youghal with the Mayor of Cork County, Councillor Mary Linehan Foley.
The Mayor was most generous with her time and having had family connections in East Africa was both interested and knowledgeable on issues on that Continent.
Our walk concluded with a lovely reception provided by some old friends from St Mary's where I had trained as an Ordinand ten years ago.
Contributions: In recent weeks I have mentioned that our ideal target from the beginning of this campaign was €10,000. At the start in light of Covid19 and lockdown it was difficult to envisage what the response would be. The interim target was set at €5,000. However, as the weeks progressed it was clear that momentum was growing and that there was a clear response to the request to ensure that, amidst our own problems, we did not forget our common humanity.
By last week we had passed the €8,000 mark. The gratifying news is that we have now passed our optimistic target of €10,000 which is both gratifying and humbling.
In conclusion, the Reverend Tony Murphy expressed his thanks:
Can I therefore sign off by thanking all those who helped in this campaign , Bishop Paul who launched our walk and has supported us throughout, each and every rector in every parish for their individual support and that of their parishioners; and finally Andrew Coleman who not only supported me throughout, but more importantly had the imagination to conceive the project in the first instance.
Please follow and like us: